Today's unbelievably extensive post from topshoeswomen.com (see link below) is not only a pretty accurate and well-explained description of neuropathy and how it affects us but a thorough examination of the shoe market for people living with neuropathy and some useful tips. if you think about it, our feet and legs have to carry us around and endure every form of movement you can think of, for all of our lives. It's a wonder we don't have foot problems in our twenties! If you then suffer nerve damage on top of all the other stresses and strains, it's our feet and legs that bear most of the strain and pain. It's vitally important then to buy the best footwear we can afford but that footwear needs to be appropriate for our very individual foot and leg problems. Buying over the internet is probably not a good idea, as you really need to try them on and walk around a bit before taking the chance on buying. This article provides a pretty good guide to everything 'neuropathic' feet related - well worth a read. And remember...fashion isn't an issue any more!!
The Top 10 Shoes for Neuropathy
By Nathan Max · On March 5, 2019 · Updated: March 7, 2019


Neuropathy is a condition suffered by almost 60% of the world's population today.

Neuropathy is a very painful condition that affects mostly the lower limbs and feet. Wearing the correct footwear can reduce the pain and symptoms of Neuropathy enabling you to live a normal and healthy life.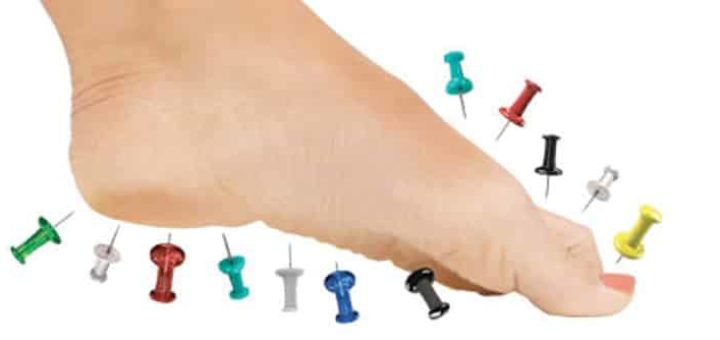 What Exactly is Neuropathy?

Neuropathy is a disease or dysfunction of one or more of your peripheral nerves that can result in numbness, weakness, and pain. It could impact the sensory nerves, motor nerves, or even the autonomic nerves.

While it is a painful condition which could impact all parts of the body, it usually impacts the extremities such as your hands and feet.

Neuropathy can have a severe impact on the way that you walk and wear your footwear when it affects your feet and lower limbs.
Signs & Symptoms of Peripheral Neuropathy
Your feet may gradually become numb and you may have a prickling or tingling sensation in your feet or hands that may spread to the legs and arms eventually.
A sharp, jabbing, throbbing, freezing or burning pain sensation.
A more extreme sensitivity to touch.
A lack of coordination and balance that may cause falling.
Muscles can become weak or paralyzed if your motor nerves are affected.
If your autonomic nerves are affected you may develop a heat intolerance and suffer from bowel, bladder or digestive disorders.
Changes in blood pressure causing dizziness and lightheadedness may also occur when your autonomic nerves are affected.

Peripheral neuropathy has the ability to affect one nerve which is called mononeuropathy, two or more nerves in different areas called multiple mononeuropathies or many nerves in many areas referred to as polyneuropathy.

A good example of mononeuropathy is a condition called Carpal Tunnel Syndrome. In most cases where people have peripheral neuropathy, they have polyneuropathy.

The Different Types of Neuropathy

There are four different types of neuropathy;

Peripheral Neuropathy

Peripheral Neuropathy is also called diabetic nerve pain and distal polyneuropathy. This is one of the most common forms of Neuropathy caused by diabetes that affects the nerves leading to your extremities such as feet, legs hands and arms.

Proximal Neuropathy

Proximal Neuropathy is also called Diabetic Amyotrophy and is a form of Neuropathy that causes muscle weakness.

Autonomic Neuropathy

Autonomic Nerves keep your body functioning normally and maintains your body's homeostasis. Autonomic Neuropathy can affect many different systems of your body such as the digestive system or bladder.

Focal Neuropathy

All of the Diabetic neuropathy types are examples of polyneuropathy except for focal Neuropathy.

Focal Neuropathy affects only one specific nerve and comes on suddenly.

Focal Neuropathy often affects the nerves in the head particularly the ones going to the eyes and can also affect nerves in the torso or legs.

Causes Of Neuropathy

There are a few people for which there is no specific cause for their Neuropathic condition, this is known as Idiopathic Peripheral Neuropathy. Other causes of Neuropathy are as follows;
Diabetes is the most common cause when poorly treated because the high blood sugar levels causes damage to your nerves.
Some vitamin deficiencies such as B12 and Folate.
Certain drugs such as chemotherapy medication and HIV medicines.
Poisonous toxins such as constant contact with insecticides.
certain types of cancers such as Lymphoma and Multiple Myeloma.
Drinking alcohol excessively.
Chronic kidney and Liver disease.
Certain injuries where you have to wear tight casts and bandages that put pressure on your nerves.
Infections such as HIV, Shingles and Lyme disease.
Connective tissue disease like Rheumatoid Arthritis, and Lupus disease.
Certain inflammatory diseases as well as some hereditary diseases.

Managing Neuropathy

Neuropathic pain can be treated with non-steroidal and anti-inflammatory drugs as well as Anticonvulsant and antidepressant drugs in some cases.

Diabetes is a condition that is involved in Neuropathy, and by managing this disorder, you can also greatly alleviate the pain of Neuropathy.

With more severe and complicated cases a pain specialist may be required to use and an invasive or implantable device that will adequately control the pain.

Electrical stimulation of the nerves involved in causing the pain will help to reduce and manage the pain significantly.
Other Treatments for Neuropathy
Physical therapy
Counseling to manage pain.
Massage Therapy.
Acupuncture Therapy.
Exercise.
Using magnetic insoles orthotics.

Neuropathic pain does not respond well to standard pain treatments and may get worse rather than better over time.

A multidisciplinary approach where you combine therapies may be a much more effective way of controlling neuropathic pain.

Exercising for Neuropathy

The general benefits of aerobic and flexibility exercises are well known to most people and aid in increasing movement and your heart rate for a healthier lifestyle. Aerobic and flexibility exercises can be one of the most important treatments and health advantages for people suffering from peripheral neuropathy.

Physical activity improves your blood circulation and strengthens your nerve tissues by increasing the flow of oxygen to them. One of the biggest problems of neuropathy is reduced mobility which can result in muscular atrophy or shrink and tightening of the muscles as well as a decrease in metabolism which in turn reduces energy and cause weight gain.

Aerobic and flexibility exercising will improve your physical functioning, muscle flexibility, and strength as well as help you to maintain your weight and improve pain tolerance. In diabetics, aerobic exercises also aid in controlling blood glucose levels lowering your insulin requirements.

Neuropathy Affect on Feet and Legs

When you suffer from neuropathy, your feet and legs are usually affected first which is then followed by your hands and arms. Peripheral neuropathy causes numbness and a tingling, burning sensation in your feet and legs that usually becomes worse at night.

The most troublesome symptom of peripheral neuropathy is the lack of feeling in your legs or feet which increase your risk of injury and reduces your healing rate. Having feet that are numb also means you cannot feel cold or heat which may lead to feet overheating or suffering frostbite.

In general wearing, the correct footwear for neuropathy can protect your feet from injury, heat or cold where you are unable to feel as well as provide you with the right comfort and support.

Why Choosing Good Shoes Is Important

Neuropathy can bring changes to the form and functions of your foot that can lead to ulcers and foot deformities.

To reduce the damage that Neuropathy bring about and relieve the pain and symptoms, you will need specially adapted shoes for this condition.

Types of Footwear for Neuropathy

Walking is one of the best activities that are beneficial for your health and well-being and can also provide good results when you suffer from neuropathy or Diabetes.

Although when you have Diabetes, your Neuropathy one of the symptoms are reduced sensation in your feet making it very hard to know when your feet are injured, uncomfortable, overheating or cold. When you have impaired blood flow to your feet infections are harder to fight off, and your feet heal very slowly.

Most foot injuries can be prevented by wearing shoes that fit properly, and that provide appropriate support and protection against foot irritation, injury risks, and pressure points.

What To Look For

Shoes that have a roomy toe area and flexible fit with lightweight, breathable materials will keep your feet well ventilated and ensure a comfortable fit. Shoes for Bunions have a wider Toe box and more roomy fit in general and therefore are also a good choice for Neuropathy symptoms.

Padding where needed, as well as a cushioned insole or midsole, provides not only comfort but support as well. A moisture-wicking lining with antimicrobial properties will reduce your risk of infection and keep your feet odor free.

Lastly, a durable and thick outsole will protect you against punctures and provide excellent shock absorption.

Always remember to opt for a shoe that is seam free and does not irritate or chafe your skin which can cause blisters and infections. You can look at the Best Shoes for Diabetics which are also suitable if you suffer from Neuropathy.

Features of the Best Shoes for Neuropathy

In some cases, there is a complete loss of sensation in the foot which makes it difficult for the foot to protect itself by using pain as a warning. Therefore you need to make sure that your footwear is protective and a good fit, especially if you have other foot deformities.

Another symptom of Neuropathy is warm, dry skin. Therefore an insole that provides cushioned shock absorbency and evenly spreads pressure is required. Because of limited joint mobility, you will also need good shock absorbency through the heel, a sturdy outsole, rocker-bottom sole, and a pressure dispersing insole.

The most important aspect to take into consideration is to get a shoe that is suitable for the foot deformity or condition that has resulted from Neuropathy. Comfortable Walking Shoes can likewise be considered as a good choice for those who suffer from Neuropathy.
Reviews: Top Rated Shoes for Neuropathy

Below we have listed some of the best choices of shoes that are suitable for people who suffer from Neuropathy.

The chosen shoes will cater for most of the most common symptoms associated with Neuropathy.

1

Slip On Dress Shoe for Neuropathy

Eastland Yarmouth – Men



click to
CHECK
PRICE
Eastland Amore – Women



click to

CHECK

PRICE




The Eastland Amore and Eastland Yarmouth is a semi-formal shoe that can be worn casually and as a dress shoe that will give you a comfortable and flexible fit.
A custom fitting dual elastic gore for easy on and off in the Eastland Amore.
Smooth leather uppers and a soft sock lining that is gentle on your feet.
The footbed is well padded and gives excellent arch support.
The hand sewed Opanka stitch-to-sole construction provides a flexible and "no break-in" fit.
Long lasting and durable wear in a shoe that is comfortable and lightweight.
A shock absorbing polyurethane outsole that offers durability and excellent traction.
A slight heel for added support.
An excellent choice for a work shoe if you work in a professional environment.
Available in black and brown for the Amore and many different neutral colors for the Yarmouth Loafer.

2

Dress Sandal and Dress Shoe for Neuropathy

Naot Wisdom Flat – Men



click to
CHECK
PRICE
Naot Loop – Women



click to

CHECK

PRICE




The Naot Loop Dress sandal and Naot Wisdom Flat for men is a perfect choice for a night out or a day in the City. These shoes offer all the comfort features required for the symptoms of Neuropathy as well as a more narrow fit.
The inner sole is manufactured using cork and latex that is covered in leather with a microfiber center strip for comfort and support.
The upper of the Naot Loop for women consists of delicate leather straps that are gentle and non-irritating to the feet.
Adjustable Gore on both sides of the instep for a better fit.
A durable synthetic outsole.
Available in a slim or Medium fit.
The Naot Wisdom Flat for men has a padded technical lining in the front for enhanced comfort and dryness as well as hand-sewn strobe construction for flexibility and durability.

3

Neuropathy Sandals

Finn Tunis – Men



click to
CHECK
PRICE
Finn Sylt – Women



click to

CHECK

PRICE




The Finn Sylt and Finn Tunis is an orthopedic sandal designed to provide relief from all the symptoms resulting from Neuropathy and other foot conditions. A handmade slingback sandal that is extremely comfortable and durable for everyday wear.
Durable and soft leather uppers with a vegetable-tanned leather lining to help wick away moisture.
A shock-absorbing, removable, comfort footbed that is ergonomically designed to support and cushion your feet.
Adjustable straps that allow a more customized fit.
A stylish and fashionable design.
The footbed is curved with an orthopedic design to mold to your feet with every step.
A durable outsole that offers excellent support.
Available in a range of colors.

4

Comfortable Neuropathy Hiking Boots

Dr. Comfort Ranger – Men



click to
CHECK
PRICE
Dr. Comfort Vigor – Women



click to

CHECK

PRICE




The Dr. Comfort Vigor and Ranger Hiking Boots are warm and comfortable boots that are perfect for both outdoors and indoors.
Manufactured from the finest quality soft and supple leather.
A lightweight shoe with comfort gel technology inserts and an elastic lace closure with Velcro straps for the most comfortable and snug fit.
The shoe cover and leather uppers have a seamless padded lining making these boots perfect for those who suffer from peripheral neuropathy.
Available in a few neutral colors as well as different width sizes.

5

Orthotic Breathable Sandals for Neuropathy

Orthofeet Melbourne – Men



click to
CHECK
PRICE
Orthofeet Naples – Women



click to

CHECK

PRICE




The Orthofeet Naples and Orthofeet Melbourne are lightweight and breathable orthotic shoes designed specifically to reduce the symptoms of neuropathy and provide support and protection required by this conditions as well as many other foot conditions.
A non-binding design with soft and smooth fabric uppers that are lined and padded with foam to eliminate pressure on pressure points and prevent chafing and blisters.
The extra depth and roomy toe box can accommodate foot conditions such as Bunions and Hammertoes and will provide ample toe wiggle room.
A multi-layered orthotic insole with anatomical arch support and a Gel padded heel seat will alleviate heel and foot pain as well as provide exceptional comfort and support.
The lightweight, smooth gait cushioned sole with Ergonomic-Stride design softens every step that you take and facilitates the natural motion of your foot which in turn alleviates stress on the joints of your feet.
Lastly, the durable outsole offers good grip and long-lasting wear.

6

Lightweight Slip-On Walking Shoe for Neuropathy

Skechers Go Walk 4 – Men



click to
CHECK
PRICE
Skechers Go Walk 4 – Women



click to

CHECK

PRICE




Lightweight, comfortable and easy to slip on and off, the Skechers Performance Go Walk 4 is an excellent choice in walking shoe if you suffer from Neuropathy or Diabetes.
Soft and flexible textile and mesh uppers that are very lightweight and non-irritating to sensitive feet because of the seamless construction.
The innovative and highly responsive 5GEN midsole provides excellent cushioning and shock absorbency.
A new Goga Max high rebound footbed energizes every step that you take fighting foot fatigue all the way.
A Bamboo lined footbed with anti-microbial treatment will reduce odor and prevent foot infections.
The durable rubber outsole provides exceptional grip and traction.

7

Therapeutic Casual Shoes for Neuropathy

Orthofeet Sprint – Men



click to
CHECK
PRICE
Orthofeet Chattanooga – Women



click to

CHECK

PRICE




The Orthofeet Chattanooga and Orthofeet Sprint have an extra depth design to accommodates orthotics and for conditions such as hammertoes and bunions as well as many other comforts and support features to provide protection and pain relief for those who suffer from Neuropathy, Arthritis, and Diabetes.
A Non-Binding Relaxed fit for freedom of pressure points and extra depth to accommodate orthotic devices and provide ample room for movement.
Comfortable and breathable uppers for a flexible and comprehensive fit that will not chafe or irritate your feet.
The Gel Orthotic insole along with ergonomic cushioning facilitates natural movement, absorbs shock and provides cushioned comfort.
Designed to deliver comfort to extra sensitive feet and to reduce foot, heel, ankle and arch pain along with the symptoms of many other foot conditions the Orthofeet Chattanooga and Orthofeet Sprint is one of the best therapeutic and orthopedic shoes for neuropathy and other health conditions.

8

Diabetic and Neuropathy Symtom Casual Shoe

Dr. Comfort Carter – Men



click to
CHECK
PRICE
Dr. Comfort Marla – Women



click to

CHECK

PRICE




The Dr. Comfort casual shoe range that caters specifically for foot conditions and diabetic symptoms, is one of the best choices you can make if you suffer from Neuropathy.

These models offer protection as well as comfort features that cater specifically for the symptoms caused by diabetes and neuropathy.
Soft and seamless, stretchable Lycra uppers that are breathable, with a velcro strap for an adjustable fit.
A more roomy toe box, and available in wider widths.
The insole is plush, comfortable and supportive.
The outsole offers good grip and excellent shock absorbency.

9

Skechers Afterburn – Men



click to
CHECK
PRICE
Skechers D'Lites – Women



click to

CHECK

PRICE




I have always loved Skechers as a comfortable shoe, particularly because they generally have a wider and more flexible fit.

The models I have chosen are running and walking shoes with extra comfort and support features to protect your feet, as well as availability in wider widths to accommodate foot conditions.
The uppers offer a flexible and breathable fit with mesh construction and synthetic overlays.
The collar and tongue are padded for a more snug and comfortable fit.
A lace-up system allows you to adjust the fit of this shoe easily.
A comfortable and supportive memory foam insole.
The thick outsole is manufactured from high traction rubber.
The Skechers D'Lite features a very lightweight midsole.

10

Pain Relief Shoes for Neuropathy

Orthofeet Tacoma – Men



click to
CHECK
PRICE
Orthofeet Serene – Women



click to

CHECK

PRICE




The Orthofeet Serene and Tacoma are designed specifically for painful symptoms related to your feet, for those who suffer from Neuropathy, Diabetes, or flat feet and other foot conditions such as hammer toe and bunions.
A non-binding relaxed fit that does not aggravate or hurt pressure points on your feet.
Breathable and seam-free upper construction with a softly padded lining.
The plushly cushioned orthotic insole provides excellent stability and support while enhancing natural movement.
A thick shock absorbing, durable outsole, that ensures good grip.
Extra depth and wider width to accomodate foot conditions.

Each of the discussed shoes offers a number of characteristics to relieve and reduce the symptoms and results caused by Neuropathy. We have given you a variety to choose from casual to dress shoes. The symptoms of Neuropathy should no longer hold you down; there is a perfect shoe for you!

Index Table: The Best Shoes for Neuropathy

1

Eastland® - Slip On Dress Shoe for Neuropathy




Slip-On
Cushioned Insole
Flexible
No Break In

Eastland

95



2

Naot® - Dress Sandal and Dress Shoe for Neuropathy




Narrow and Medium Fit
Latex and Cork Insole

Naot

90



3

Finn® - Neuropathy Sandals




Leather Upper
Curved Footbed
Orthopedic Design

Finn

97



4

Dr. Comfort® - Comfortable Neuropathy Hiking Boots




Wider Widths
Lightweight
Adjustable Fit

Dr. Comfort

90



5

Orthofeet® - Orthotic Breathable Sandals for Neuropathy




Cushioned Insole
Arch Support
Gel Padding

Orthofeet

94



6

Skechers® - Lightweight Slip-On Walking Shoe for Neuropathy




Goga Max Footbed
Cushioned
Lightweight
Rubber Sole

Skechers

96



7

Orthofeet® - Therapeutic Casual Shoes for Neuropathy




Gel Cushioning
Non-Binding Fit
Breathable

Orthofeet

95



8

Dr. Comfort® - Diabetic and Neuropathy Symtom Casual Shoe




Seamless
Flexible
Breathable
Orthotic Insole

Dr. Comfort

98



9

Skechers® -




Flexible
Breathable
Lightweight
Cushioned

Skechers

9



10

Orthofeet® - Pain Relief Shoes for Neuropathy




Cushioned
Orthotic Insole
Pain relief

Orthofeet

9


https://topshoeswomen.com/shoes-for-neuropathy/